Hemingway was a romantic.  Sure, he was macho and tough and a man's man in many ways, but he enjoyed women greatly and always had a close and loving relationship with Marlene Dietrich.  One of Hemingway's love letters to her is going up for auction.  It is expected it will garner something in the vicinity of $30 – $40,000.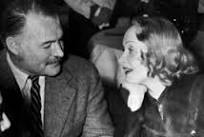 This particular letter is dated August 12, 1952 – a year after Dietrich had confessed to keeping the author's photograph by her bedside.  They met in 1934 and became quite infatuated with each other but never consummated the attraction because, as Hemingway put it, they were "victims of unsynchronized passion."  He noted that whenever one of them was out of a relationship the other one was in one and the timing never worked out.

Hemingway writes in the letter to Marlene "I always love you and admire you and I have all sorts of mixed up feelings about you."  Later in the letter he declares that while "you are beautiful…I am ugly…please know I love you always and I forget you sometimes as I forget my heart beats.  But it beats always."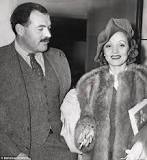 Marlene and Hemingway corresponded over several decades.  Marlene Dietrich's daughter wrote a book noting that after Hemingway's death, her mother wore widow's weeds for quite a while and she always believed that had he been with her, instead of his then wife, Mary, he wouldn't have killed himself.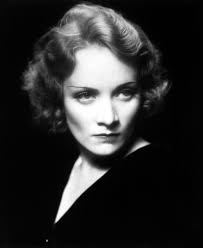 So, if I had $30,000+ just sitting around, I might enter the fray and bid on this letter, but I fear I'm going to have to let it go to some other fervent Hemingway fan.

I've read many of Hemingway's letters. They are fun and he is quite funny and clever in them.  His humor rarely comes through in his novels.
I think the line that I've quoted above – I forget you sometimes as I forget my heart beats.  But it beats always – is so him.  It's very simple and yet it speaks volumes.