I decided it was time to re-read Hemingway. I've read all of it but lately have been reading more books about him instead of reading him. I just finished Mary (wife 4) Hemingway's How It Was for the second time. It had been widely criticized as self-serving and not insightful. For me, it still was very interesting to see Mary's point of view and I thoroughly enjoyed hearing about events that I knew much about but this time from Mary's perspective. She is a complicated figure and that's for another post. She put up with a lot of verbal abuse from Hem but also seems to have wanted to be "Hemingway's Wife," and for that, she endured. She was loyal, and despite some bad times, stayed.


Within the past six months, I also have read Hemingway's Cats and Hemingway and Fitzgerald..  I loved the animal book as much as anything I've read about Hemingway. It's not scholarly but it's human and I am an  animal person so I  melted into the book. I love that Hem loved his animals like family members and he valued their presence in his life.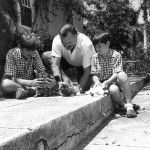 A month ago,I began reading the short stories again. I read slowly and

found new meaning and layers in this go-round. Favorite: The Snows of Kilimanjaro.  I'm now tackling A Farewell to Arms. I'm listening to it on an audio tape because I find it lets me listen and focus on the words and the sentence structure as opposed to being distracted.

In listening, I am finding that there is so much that I missed or that I'd forgotten.  Despite my affinity for Hemingway, I don't like war stories as a rule.  However, listening to the dialogue, I became completely engrossed in the maneuvers of Hemingway's unit/Frederic Henry's unit and his cohorts with him. I love Rinaldi and the way he calls Frederic "baby." I loved the love story.
The descriptions are beautiful and immediate and while by modern standards, the romance and the dialogue between Frederic and Catherine are dated, the emotional wallop is still there.

Next up is Across The River and into the Trees, Hemingway's most maligned novel for which Adrianna Ivancich was his muse.  As he was writing it, Hemingway apparently thought it was going to be one of his best.  The reviews were brutal.  I haven't read that one in a long time and I want to see if it's as bad as all that.
So:  Do you have a favorite short story?  A Clean, Well-Lighted Place is probably my favorite but The Snows of Kilimanjaro is the pinnacle for me–very different lengths–those two–but wow, in 3 pages, what he did in A Clean Well-Lighted Place.