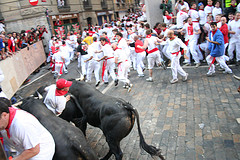 The most famous writer of the 20th century, Ernest Hemingway, had such an eventful life that he created enough myths to keep his story alive well into this century.  There are whole industries based on the Hemingway image:  look alike contests held in Key West; bad Hemingway writing contests; drinks popularized by him; Harry's Bar and Grill in Venice; the running of the bulls in Pamplona; and that's just to name a few.  All of the foregoing are efforts to have a connection with what he did and what he was.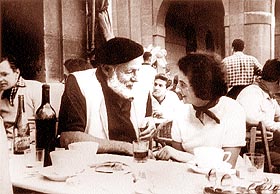 He had many unattractive traits along with his more positive ones.  His excesses are well-known and his granddaughter, Mariel Hemingway, who was born after his death, has made it her vocation to educate the public about mental illness and the need to avoid the destructive patterns that depression and alcoholism create for everyone around them.  In her book "When Out Came the Sun" was published, she said she considered it a corrective "to the romanticizing of hard drinking and writing and living this macho existence, which I'm sure, if my grandfather could do it again, he would choose a different way."

I just read an article which delineates some of the above and which reviews a new book on Hemingway by James M. Hutchisson, called Hemingway: A New Life.  He quotes Hemingway's brother Leicester as saying "he loved everything up to a certain point, and then nothing was good anymore."  Hutchisson's searches for the roots of Hemingway's discontent.  He believes casual drinking that evolved into lifetime alcoholism and too much success at too young an age contributed.  Hemingway developed a very competitive streak and his high standards created an almost suffocating anxiety in him, says Hutchisson.  When critics savaged "Across the River and Into the Woods", published in 1950, Hemingway felt it was unjust and it really bothered him deeply, tapping into his insecurities and anxieties. He particularly hated that James Jones' "From Here To Eternity" was getting raves.

Toward the end of the 1950's, Hemingway's health and mental health truly began to fail.  Two plane crashes in 1954 hadn't helped his health.  Years of drinking and failing to take care of his weight, blood pressure and exercise didn't help either.  After shock treatments at the Mayo Clinic, his short term memory was shot and writing even a thank you note was impossible.
For those interested in a fresh look, check it out.  It's published by Pennsylvania State University Press.