The below book is the one I hopped over to work on my book called Hemingway's Daughter. I love it though and it is featured on Kindle scout. If you  are able, could you please nominate it. Then Hemingway's Daughter will come out sooner. THANK YOU!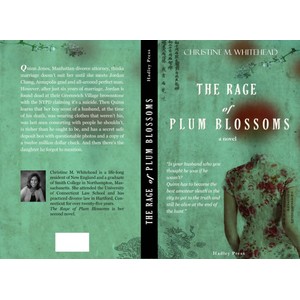 Hello my friends and readers:
My second book, The Rage of Plum Blossoms, is being submitted to Kindle Scout for possible selection for publication by their private publisher. You don't have to have read it as it is not yet published (5000 words are displayed though) but it does need your support to be noticed by the Kindle Scout team.  A quick summation:
Attorney Quinn Jones is in over her head. Her husband, Jordan Chang, Annapolis grad and superstar businessman, has been found dead outside their Greenwich Village brownstone. He's wearing clothes that aren't his, and was last seen at a place he never went, while consorting with people he shouldn't. Since NYPD has labeled Jordan's death a suicide, Quinn is on her own to uncover the truth. Courtrooms, Quinn knows. Chanel No. 5, horses, frizzy hair, and martial arts, she knows. Murder, she doesn't know but she's learning fast in order to stay alive. With a few clues to work with, including a photo of Jordan with a stunning unknown Asian woman and a copy of a 1986 check payable to Jordan for twelve million dollars, Quinn stalks the back streets of Chinatown, haunted by the need to know what happened that day and why. And then there's the daughter Jordan forgot to mention.
May I trouble you to nominate my book for review by the Kindle board for consideration? I would appreciate it greatly.
https://kindlescout.amazon.com/p/3W06FFVKSJ4LG
With warmest and sincerest thanks,  Christine