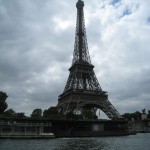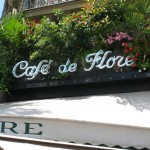 More photos: Some repeat background. Forgive me! But much is new!
We had rented an apartment in the Marais district and it was perfect.  It had a security code to get into a beautiful flowered courtyard and then it was two flights up by foot.  The apartment itself was quaint, although modern, bright, and sunny.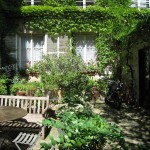 Efficient use of space was inspiring and I took photos because I was very impressed at how comfortable it was despite its small footprint.  The neighborhood was very walkable.  If you are not familiar with the Marais district, it is full of narrow roads, two to three story buildings only, the old Jewish district, and boutiques that are open even on Sundays.  One street is closed to traffic and it has Jewish/Middle Eastern influence with gourmet falafel creation raised to a fine competitive art.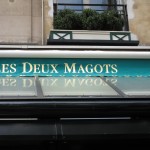 I would get up early each morning quite early, take a walk around several blocks, stop at a patisserie to get a fresh loaf of bread and croissants, and then buy cheeses at a nearby grocery.  It was wonderful to have coffee and breakfast right in the apartment.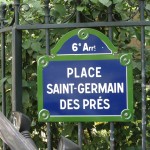 Paris, of course, has changed vastly since Hemingway's days there.  Nevertheless, I walked through the areas that he walked through and saw what I could.  Shakespeare & Company is still there.  The cafes in Saint Germaine dePres may have different names, but they are similar.  Les Deux Magotz is still there on a busy corner.  I had fun pretending that I could see Hemingway sitting at a corner table, deep in thought, and writing the book that ultimately became The Sun Also Rises.  Alternatively, I could imagine him writing one of his reporting pieces that paid bills along with Hadley's trust while he waited for his big break.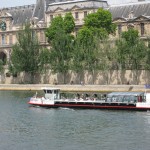 I walked along the Seine, up to Montmartre, and I saw the first apartment that he and Hadley shared.  Of course, we didn't go in it since it's occupied but I saw the neighborhood.
I was recently listening to some tapes that Alice Sokoloff made of her friend, Hadley Hemingway Mowrer.  All of these tapes ultimately became the book that Alice wrote about Hadley.  Hadley was describing in this particular conversation the bad neighborhood that she and Ernest had lived in, its unpleasant smell since they were near a lumberyard, and her loneliness in Paris initially. I'd never been aware of that loneliness prior to listening to the tape.  I had always had the impression that Hadley was happy in Paris from day one because Hemingway was happy.  In this tape, she described how difficult it was without knowing the language, and, given the fact that he was away during the day writing, she felt like an outsider who did not yet have friends.  She was quite homesick. 

Ultimately, Hadley came to love Paris and willingly stayed there.  Even after she and Paul Mowrer moved back to Chicago, they ultimately returned to Paris for a few years after the war.  A Moveable Feast describes well the foods, the sights, and the smells in Paris in those early years.  It was my dream to go and see these places while knowing that they had all changed.  Paris truly exceeded my expectations in most every way.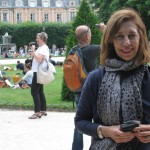 Aside from the Hemingway connection, I found Paris to be the loveliest city I've ever been in.  I can't wait to return.  I fell in love with it.  I did not meet one surly French person–and I was braced for it.  I speak a little bit of French but my vocabulary is so rusty that I struggled.  Still, everyone was simply wonderful; the food in the smallest cafés was terrific.  We weren't eating in five-star restaurants, and although I had done some research and set up a few reservations, when we were delayed in taking off, I cancelled everything.  In any event, we felt very welcome in Paris and everyone we met was very friendly.  I would go back in a split second.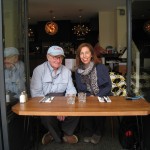 Merci, et bon soir, Monsieur Hemingway.