PlayJanuary 31, 2019
Oh boy, Is this great?! while not an action packed play, i'm sure, I can't wait to see this. And Aaron Hotchner. If anyone can adapt the book, he can. Always a loyal friend to Hemingway. Best for the new year to all Hemingway readers: fans, not such fans, and the obsessed like me. Happy new year! Christine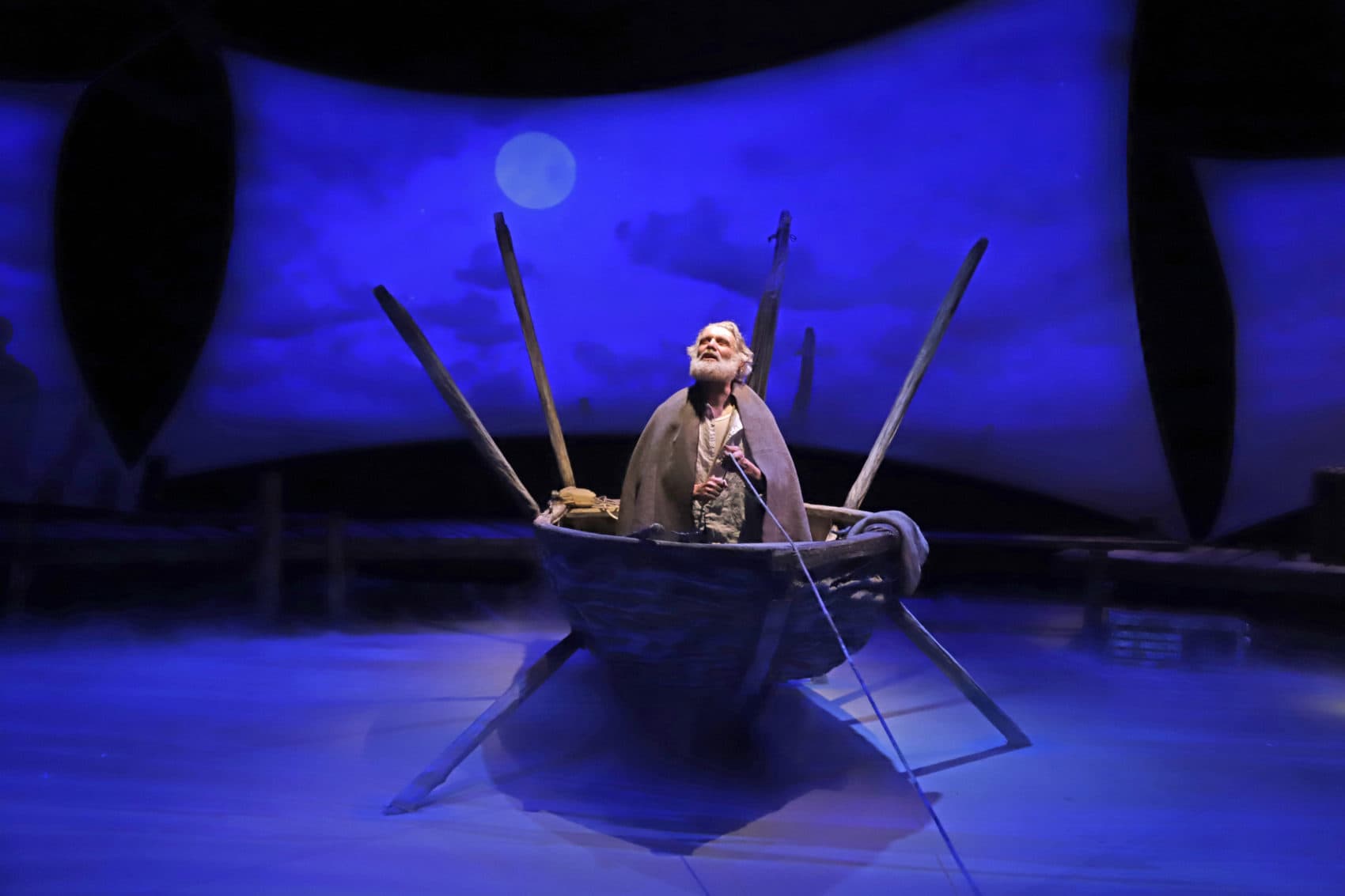 It was 1952 when novelist Ernest Hemingway published his Pulitzer Prize-winning "The Old Man and the Sea" — the sparingly written story of the down-on-his-luck Cuban fisherman Santiago, and his desperate attempt to catch a marlin after 85 increasingly desperate days without one.
But before the book's release, Hemingway gave the manuscript to his friend A.E. Hotchner, also then in Cuba, and asked him for his opinion.
"I must say, I was transported. Imagine for the first time seeing the wrinkled-up pages and reading what will become an epic of American literature," Hotchner tells Here & Now's Robin Young.
Years later, when the movie based on the book, starring Spencer Tracy, opened in 1958, Hemingway took Hotchner with him to see it. When they left, Hemingway told his friend that maybe one day he — Hotchner — could try to do it better.
"Ernest was rather direct and he said, 'Maybe someday you'll take a shot at it,' " Hotchner recalls.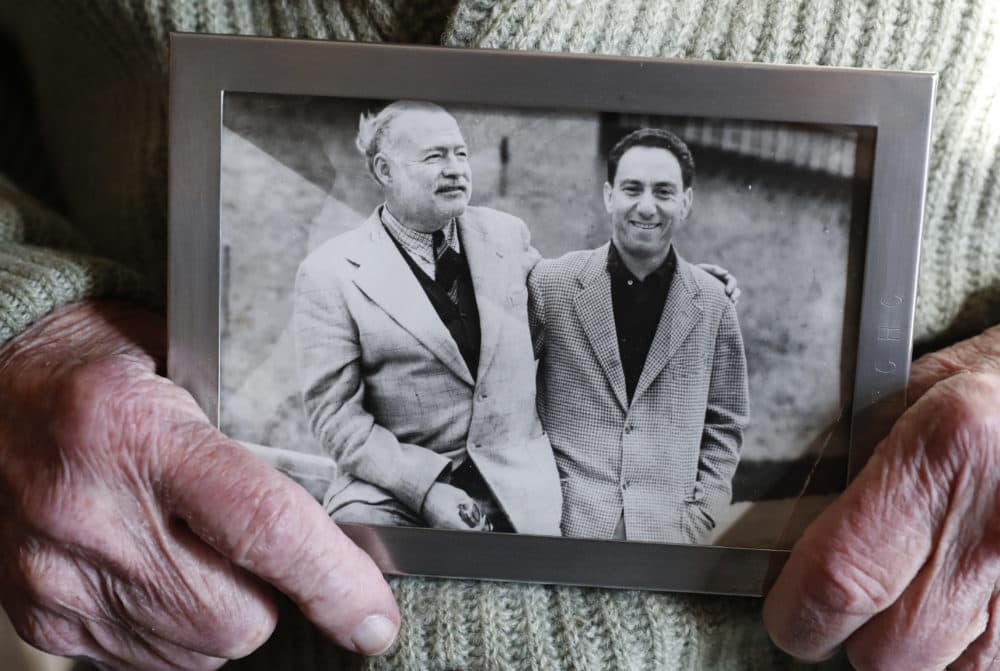 That was 61 years ago. Now, at age 101, Hotchner has done just that alongside his son Tim. The stage adaptation of "The Old Man and the Sea" the two wrote together will open at the Pittsburgh Playhouse of Point Park University on Friday, in partnership with RWS Entertainment Grou

Interview HighlightsOn the moment when Hemingway gave him "The Old Man and the Sea" manuscript
A.E. Hotchner: "Well we just had dinner. I had gone into my guest house and he came in with a sheaf of typewritten manuscript in his hand and he said, 'I just finished this. Mary typed it up. Would you like take a look at it?' And I said, 'Sure leave it.'
"A few weeks later, he called and said, 'Life magazine wants to publish it in one issue, but I wonder if I should save it to do a bigger book about the sea?' And I said, 'Well, you told me one of the golden rules of freelancing is if you write something and they want to publish it, grab the money and run.' So we did. And let's go about five years later, he's come to New York for the World Series. But 'The Old Man and the Sea' has just been made into a movie with Spencer Tracy. We're walking down Park Avenue and he said, 'Why don't we go and take a look at it?' which we did, and we lasted about 10 or 12 minutes and he turned to me and said, 'I'm ready to go.' And I said sure. So we left and he said, 'You know, you write something and you like it. Over the years it does well, and then they do this to it. It's like pissing in your father's beer.' "
On tackling the stage adaptation of "The Old Man and the Sea"
A.E.: "It took me a long time. I wrote my biography of him, 'Papa Hemingway.' I did that five years after he died. But over the years, I kept thinking about him saying, 'Why don't you take a shot at it?' And finally, I decided I would. It took me four or five years to get the version that I liked and I brought my son into it. We have high hopes."
Tim Hotchner: "Well we spent about two months on it before rehearsals, really kind of reimagining the story, because you know it's such a difficult one to put on the stage. Obviously it works beautifully as a book. So we really had a look at it. My father had the great idea of putting Hemingway in the piece."
"This book has become such a treasure. It's really a great example of how one man's devotion to the cause of his life — which is the sea — is everybody's devotion to some cause."A.E. Hotchner
On the meaning behind the Pulitzer Prize-winning novel
A.E.: "You understand that this book has become such a treasure. It's really a great example of how one man's devotion to the cause of his life — which is the sea — is everybody's devotion to some cause, this old man and his attitude and his achievement, and yet he falls short. But in a way, that touches the course of everyone's life. That's really what goes out on the stage."
Tim: "It had been 11 years since Hemingway wrote 'For Whom the Bell Tolls'and he had a lot to prove at this time in his career as well."
A.E.: "He had previously, not very long before, written a novel called 'Across the River and into the Trees.' And for the first time in his long writing life, that book had been roundly assaulted by the critics, the sharks. So now, he has to organize himself to write a rebuttal. And 'The Old Man and the Sea' is Hemingway, the old man, getting back at the elements that have attacked his virtuosity."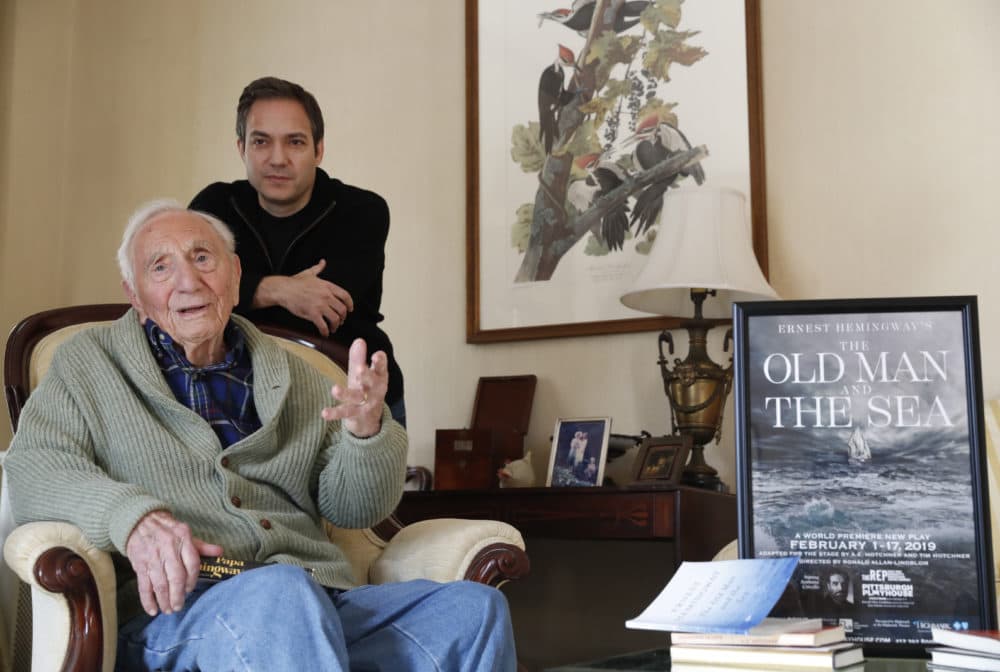 On Hemingway's personality
A.E.: "Well Hemingway and I had many adventures together — bullfighting, fishing. But he was not the braggadocio, knock-down-the-opposition man, that has sort of endured over the years. He was really much more introspective, much quieter. He was belligerent and he was tough … but that was not the overriding menace of his personality."
On capturing the essence of Hemingway onstage
Tim: "So once we started to kind of play with reimagining it and that dichotomy, we kind of started to think Hemingway could move around. He can be a part of not just the narration, but a part of the exploration to actually bring out what I think Mr. Hemingway was getting at with a lot of the character traits, especially of Santiago. He's a moving, living, breathing character. And again, this is I think Hemingway's most sensitive piece in terms of nature and our relationship to the environment and the sun and the moon and stars and all these things that these days, we seem to want to kind of conquer. And Hemingway was saying, 'Let's just sit back and behold some of these.' "
On what Hemingway would think of their stage adaptation
A.E.: "It's very hard to know. I think that he would applaud the fact that we didn't put the book on a pedestal and just replicate it. … It did bother me for a lot of years, that tossing around in my mind. I couldn't find a way to get it away from its literary self and into its dramatic self."
Tim: "And to just see my old man, kind of in his perseverance and his kind of going back after the marlin repeatedly, I mean he's always said that's what's gotten him to 101. That we can be destroyed, but we can't be defeated, I guess."
---
Karyn Miller-Medzon produced this interview and edited it for broadcast with Todd Mundt. Serena McMahon adapted it for the web.
This segment aired on January 31, 2019.