Oh, gosh. That Martha was always a spirited one! So take a look below.
August 17, 2016 10:03 AM
Hemingway cat 'jailed' after tourist complains of bite returns home
The gray tabby cat, named for a gusty war correspondent who spent some time married to Ernest Hemingway after they met at Sloppy Joe's bar, recently spent 10 days in quarantine at a veterinarian's office on Stock Island after a tourist called police to report the feline had bitten her mother's hand.
Martha Gellhorn the cat did nip the left hand of Mary Ann Law, 76, of New Port Richey, at 4 p.m. July 20, according to the Monroe County animal-bite report, after staff said the woman had touched her.

But the cat, one of 53 six-toed felines who live on the gated grounds of the Hemingway Home and Museum, 907 Whitehead St., was up to date on her shots and after observation was released July 30.
"No sign of rabies," reads animal control officer Lindsey Thompson's report.
Of course not, said Jacque Sands, general manager of the Hemingway Home, who on Tuesday reported that Martha was back home with her cat colleagues after All Animal Clinic pronounced the tabby not only safe but "a sweetheart."
"It was the first time ever and the woman was aggressive with the cat," Sands said of the incident. "They are pets. We have 32 employees who consider them five-day-a-week pets."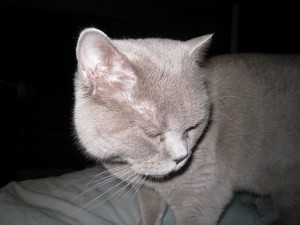 Law reportedly didn't want to make a fuss but her daughter called Key West police, who turned the matter over to the Florida Keys SPCA, which cleared the cat. All the Hemingway cats sees local vet Dr. Edie Clark.
Any animal bite, however slight, must be reported to the state Health Department under Florida law. Many times hospitals report them but those who were bitten aren't interested in pursuing a case against the pet owner, Thompson said.
Hemingway cats, the six-toed or polydactyl felines whose degree of attachment from the famous writer has been long debated, have drawn drama before, including a decade-long legal battle with the government. The U.S. Department of Agriculture regulates the cats, which roam about the grounds and who each have a full name — Harry Truman, Truman Capote, Bugsy Siegel, Billie Holiday and Cary Grant currently share the mansion with Gellhorn.
So Martha is out again, looking for another adventure.