Now, who should play the great parts that Hem has provided for us?  My selections in bold:

The Sun Also Rises: (1957)

A Farewell to Arms: (1932)
Gary Cooper (Clive Owen) as Frederic
A Farewell to Arms (1957)
Jennifer Jones as Catherine (Hemingway dismayed that she was 40. Catherine was supposed to be in her twenties.)
Rock Hudson as Frederic
A Farewell to Arms (In Love and War) (1996)
Sandra Bullock as Catherine
Chris O'Donnell as Frederic
For Whom the Bell Tolls: (1943)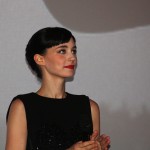 Ingrid Bergman (Rooney Mara) as Maria
Gary Cooper (Ben Affleck) as Robert Jordan
The Snows of Kilimanjaro  (1952)
Gregory Peck (Ed Harris) as Harry
Susan Hayward (Sharon Stone) as Helen
The Old Man and the Sea ( 1958)
Spencer Tracy ( Javier Bardem) as Santiago
SO HOW DID I DO?