I'm writing this article based on an article by Karen Heller, dated June 23, that she published in The Washington Post. I'm quoting significantly from her but please read her original in The Post.
The American Writers Museum just opened in Chicago. It is the brainchild of Malcolm O'Hagan, 77, an Irishman who had the idea for this museum about eight years ago. It's "a very visual place, a social environment where people interact." There is a reading room for children and another for adults, play tables with catchy graphics that purport to go inside the mind of the writer and the use of music and film to make some points. Scents highlight the work of M.F.K. Fisher (strawberry jam) and James Beard (onions). On display are a pair of vintage Royal typewriters that invite visitors to type and create a story.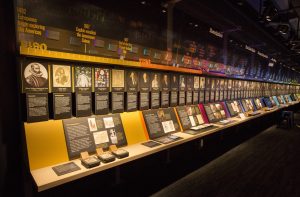 There are 11,000 square feet of galleries. The museum cost almost $10 million to get off the ground, an amount that includes substantial funding from the Washington D.C. co-founders and friends. The founders chose not to use the donations to create a dazzling building. Rather, they are hoping that the museum grows in phases with a permanent building later, or perhaps not.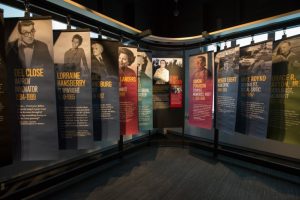 The founder is an Irishman who was reared in Yeates country. Mr. O'Hagan emigrated to the U.S. in 1968. "Growing up in Ireland, I loved the American writers—Steinbeck, Fitzgerald, Hemingway—that made me love America." Co-founder Lawyer Werner Hein, 74, grew up in Germany after the War and noted that America caught his imagination through the works of James Fenimore Cooper, Mark Twain, and Hemingway. Hein and O'Hagan met in Washington D.C. where they are members of a writing club. They noted that there is no place in America that specifically honors the nation's authors. The third co-founder is business executive Jay Hammer, 62, and also a book club colleague.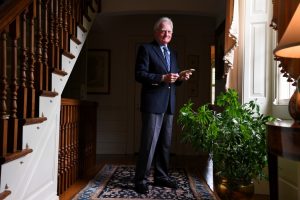 All three grappled with where to put this museum. Chicago has a fine tradition of writers and is in the center to the country. It's the original home of Hemingway. The Director of Operations, Christopher Burrow, noted that "books can be kind of stale. We're trying to bring them back to life."
The Writers Hall honors 100 "significant" writers of fiction and non-fiction. They've tried to include diversity, women, and varied styles. Honors have been bestowed on Tupac Shakur, Julie Child, Richard Pryor and Herman Melville among the many others. So, Chicago is now home to a "dream born of Mr. O'Hagan's Irish ardor for the American language and the written word." The next project:  Turning the restrooms into additional gallery space while still keeping them functioning as bathrooms.
So if in Chicago, check it out. It looks very intriguing to me.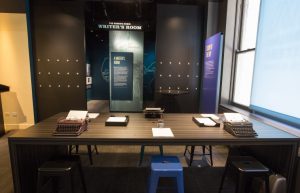 Ms. Keller is a national General Features writer for Style. You can follow her on Twitter   @kheller.