6. One of Ernest Hemingway's best works came about from him leaving some luggage at the Ritz Hotel in Paris.
Speaking of A Moveable Feast, Hemingway wrote it later in life (it was published posthumously) after a 1956 stay at the Ritz Hotel in Paris wherein he was reminded that he'd left a steamer trunk (made for him by Louis Vuitton) in the hotel's basement in 1930. When he opened it, he rediscovered personal letters, menus, outdoor gear, and two stacks of notebooks that became the basis for the memoir of his youth in Paris's café culture.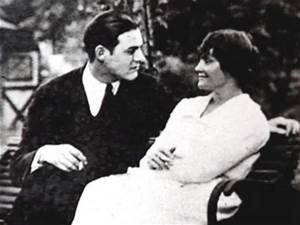 7. The famous "Baby Shoes" story is most likely a myth.
Oddly enough, a story many people associate with Hemingway probably has nothing to do with him. The legend goes that one night, while drinking, Hemingway bet some friends that he could write a six-word short story. Incredulous, they all put money on the table, and on a napkin Hemingway wrote the words "For Sale: Baby Shoes, Never Worn." He won the bet. Unfortunately, there's no evidence it ever happened. Some newspapers had printed versions of the general plotline in the 1910s without crediting Hemingway, and there's no record of his link to the phrase until 1991 (in a book about the publishing business), three decades after Hemingway's death.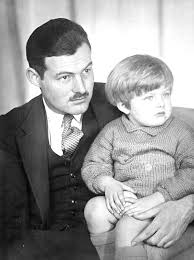 8. Ernest Hemingway almost died in back-to-back plane crashes.
In 1954, Hemingway and his fourth wife, Time and Life correspondent Mary Welsh, were vacationing in Belgian Congo when their sightseeing charter flight clipped a pole and crashed. When attempting to reach medical care in Entebbe the following day, they boarded another plane, which crashed upon takeoff, leaving Hemingway with burns, a concussion, and his brain leaking cerebral fluid. When they finally got to Entebbe (by truck), they found journalists had already reported their deaths, so Hemingway got to read his own obituaries.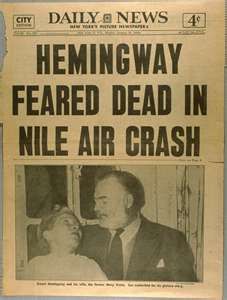 9. Ernest Hemingway dedicated a book to each of his four wives.
Each time he got divorced, Hemingway was married again within the year—but he always left something behind in print. The dedication for The Sun Also Rises went to his first wife, Elizabeth Hadley Richardson; Death in the Afternoon was dedicated to second wife Pauline Pfeiffer; For Whom the Bell Tolls was for third wife Martha Gellhorn; and Across the River and Into the Trees went "To Mary with Love."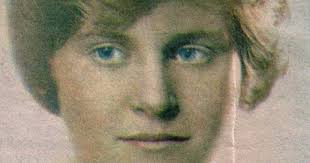 10. Ernest Hemingway's house in Key West features a urinal from his favorite bar.
Hemingway wrote several iconic works, including To Have and Have Not, at his house in Key West, Florida. It's also where he converted a urinal from a local bar into a fountain. Local haunt Sloppy Joe's was a favorite watering hole of the irascible author, so when the place went under renovation, Hemingway took one of the urinals as a memento, quipping that he'd already poured enough money into it to make it his.